Methodology
A great partnership adds immediate performance, experience, and accountability to your team.
We are a group of versatile, relatable teammates who use our digital and design expertise to make your marketing efforts work better.
Our development process is unique to each client and each need. We take challenges seriously and like to have fun setting and reaching goals along the way. Collaboration in this process is key. We want to work with a team looking to interact with us and the strategy process, with people who are passionate about what we're doing together.
The act of observation influences and completes reality. Consequently we, as designers, must acknowledge the circular ethos of people-centric design, that is people creating for people. 
Designing for people requires sensitivity towards the context of the individual. People-centric is a conviction that the aesthetic and function of design are dependent on the values of the user. As such, our design methodology is multidisciplinary – drawing on processes from visual & interaction design, programming and psychology.
Square360's suite of integrated capabilities orbit around a nucleus of people. Our objective is to imbue meaning and relevance into all aspects of branding, design, usability, and function. That anchors our disciplines in a common foundation, enabling us to extend to different marketing channels and mediums without compromising the experience. 
Dive into our disciplines
Effectuating ongoing engagement necessitates a proactive approach that views people on a continuum. Success is not a straight line as much as a series of loops with a forward momentum.
Each iterative loop builds on the successes of the previous generation, corrects the shortfalls and adjusts to maintain a consistent experience.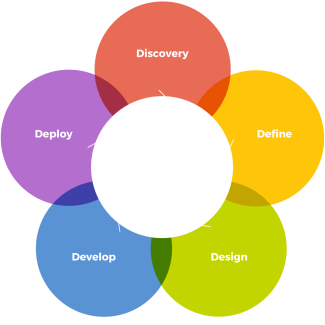 Our name, logo, and philosophy are based on the principles of Leonardo's Vetruvian Man. Science (i.e., technology) and the divine (i.e., creativity) are held in equal esteem and are married in everything we do.